Review: iOrnament (old version)
This is a review of the old iOrnament app (2017), it has now improved and has additional features.
I first started using iOrnament because I had been designing my own mandalas for the website using the Amaziograph app. I loved the Amaziograph app, but after creating over 50 mandalas, some of the limitations had me searching for an app with more options. I found iOrnament and loved it! It's more expensive than iOrnament ($3.99 vs. $0.99), and the Pro upgrade($0.99) is essential for my needs, but it is absolutely worth it.
In a former life, I was the founder of BestAppsForKids.com, a kids app review site. So, I have seen hundreds of apps, probably more like over a 1000 — that's a lot of apps. I sold the site a couple of years ago and, although I've seen a lot of good apps, this is the first app that I simply had to review.
This review is based on the Pro version ($3.99 + $0.99) and not a review of all the features, but just those I use the most.
What I Love (and use)
Generally, I love using this app because it doesn't get in the way of my creativity, but it does provide some nice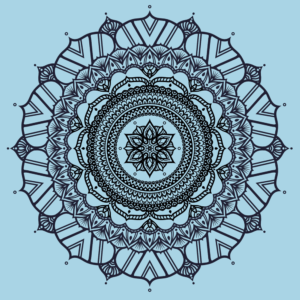 tools to help me achieve the effects that I want. The main ones are below:
Resolution and quality of lines & brushes:
The default brush has a very smooth, high resolution line, but not only that, in Pro mode you can alter the last line you made. This means you are able to smooth it further, change it into a different shape (straight line, circle, square, curve), change the brush size, color, and opacity. The Pro version also has 3 additional brushes, which are great for adding lines with more texture, or in my case, a more artistic brush to add color to the designs.
Symmetries for mandalas, and tiles for patterns:
iOrnament makes it really easy to create mandalas and patterns, by doing all that pesky math and grid work for you (this is not surprising since the app developer is a math professor!)
There are 17 different tile patterns, and the two types of mandala (rotation and mirror). Mandalas can also have between 2 and 64 segments, in design mode you can also have different symmetries to make more complex
Layers: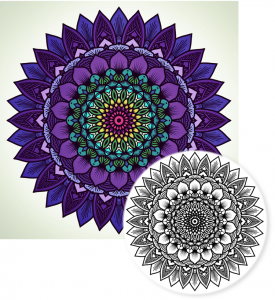 I want to pause here, because I love layers! The three layers allow me to sketch out a rough idea on one layer to use as a guide, create a finished design on another layer, then add color on the bottom layer. Often I erase the guide layer and use that to add detail that I might not be sure about. This protects the main design. It also allows you to have an outline as a template (I did this with a butterfly design that I haven't finished yet. The outlines stays the same, but I can play with different designs on the wings and save versions to the gallery.
Canvas color:
Often I might start with a background color that is more neutral, like white or black, and when I've finished I can change it to something more interesting.
Export and share:
I create many of the designs to change into coloring pages for babadoodle.com, and the ability to export as a high quality graphic is essential for this. However, sometimes I just want to share it to Instagram, Facebook, or some other social media, and iOrnament does this too. Plus, all the standard features like download to photos, email, or text.
What I like (it's kind of cool, but I don't use it much)
Personally, I tend to like simple, modern design, so don't often use some of these other features, but they are interesting and can give some interesting effects, like stained glass. Here is a design using the glow brush, on a rotation styled mandala, and dynamic stroke size with complementary colors. I have also created a tiled pattern and converted it into a 3D ornament.
Glow brush
Blurred brush
Rotation for mandalas (I generally use mirror)
Dynamic strokes: this changes different elements of a stroke as you draw, for example, length, color, saturation)
3D ornament
What I'd like to see improved:
Color palettes:
There is only one color palette and, although you can change the colors, you can't save a custom color or palette. Also, there's no color picker, so if you've found the perfect blue, but now you selected a different color, well good luck trying to match it again!
Save/share/export menu and gallery:
Firstly, I would just like to have a gallery view that allows me to manage all my designs (Amaziograph does this really well!). Then, please don't make me delete a design to get a new canvas. If you've saved your design already it doesn't delete it, but still, it makes me very uncomfortable.
Performance:
Before I proceed, let me say that I am working on a very old iPad (> 3 years) that is literally held together with tape. Many art apps do not work with my iPad, because it is so old, so hats off to those, like iOrnament, that do. That being said, the app can be laggy when loading designs, changing tiles, or clicking "undo" more than about 4 times in a row. More than once I've had the spinning loading icon of doom, but as I said, it's an old iPad. (Note: The developer mentioned that sometimes loading is slower due to the high drawing quality. I agree, I would rather sacrifice speed for quality. Or put it another way, "all magic comes with a price!"
Final Thoughts:
As a mandala artist, I absolutely love this app – and I cannot emphasize enough how amazing it is even on my old iPad. I would love to try this app out with a new iPad and Apple pen, and it has got me seriously got me thinking about saving my pennies or asking santa for a new iPad this year. But I am not only an artist, I am also a novice/amateur scientist, so the fact that there's a science to this art and, in symmetry, an art to this science has me nerding out just a little.
Research shows that being creative – even if you don't think you're artistic – can really be beneficial to your psychological and physical. Your can read more about that here, and apps like iOrnament allow artists and non-artists a like to be creative.
Bottomline:
iOrnament is an essential app in my digital art kit and I highly recommend that you add it to yours. Download it now and play around with it!
And there's more…GIVEAWAY TIME!
Check the comments for codes soon for iOrnament and
iOrnament Crafter